---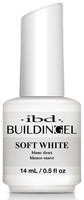 REVOLUTIONARY Nail Product
ibd BUILDING GEL
Hard Gel Nail Extension in a Bottle & Brush Application
Bottle, 1 Brush, 5 Essential Shades
Introducing ibd's Building Gel, the innovative product that harnesses the benefits of sculpting gel via the convenience of a brush-on application process.
Building Gel lets professionals part ways with messy pots in favor of a two-in-one time saver that neatly packages sculpting gel and brush into a single bottle. That means no scooping, scraping or stickiness—just stress-free sculpting.
Choose from five shades including Sheer Pink, Cover Pink, Soft White, French White and our top-selling Clear to suit your sculpting needs. Plus, Building Gel's soak-off formula makes removal a breeze, so sculpting is simplified at every step.
No further discounts apply on this product.